This week SoundOnSound Magazine have once again opened their grand poll doors giving readers the chance to vote for their favourite new music technology additions from the past year in the much coveted annual SOS Awards.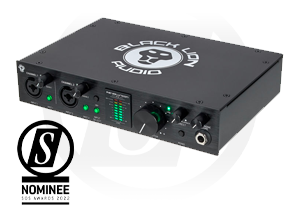 The selection of candidates for 2022 is one of the strongest showings we've seen and a phenomenal seven SCV distributed products have found their way into the shortlists. Below we take a brief red carpet tour to check out the nominees.
Black Lion Revolution 2x2
Computer Interface
Chicago outfit Black Lion present their first foray into the compact audio interface market with two pristine mic/instrument preamps and on-board PG-i power conditioning.
Over the years Black Lion's range of studio master clocks have gained huge popularity and Revolution buyers were delighted to discover the same proprietary clocking technology baked right into the 2x2 model's design.
Focal Alpha EVO
Studio Monitors
Following the Alpha range was no easy task, but by harnessing incredibly innovative R&D, Focal have been able to deliver a next generation affordable studio monitor range which yet again sets a new benchmark balance of listenability and mixing insight.
The Alpha 50 EVO and 65 EVO both feature low frequency drivers hewn from a new Focal-developed material known as slate fibre an deliver a remarkably neutral sound for optimum transferability between listening systems. Familiar signature aluminium inverted dome tweeters then handle high-frequencies, all backed up by powerful Class G on-board amplifiers.
Focal Clear MG Pro
Studio Headphones
Continuing the legacy of the original Clear Professional headphone, Clear MG Pro features a brand new honeycomb grille design for its outer enclosures to enable even more improved soundstage and the sensation of amplified spatialisation during playback.
Clear MG Pro continue to hold their ground as one of the industry's premier mixing headphones for producers and engineers keen to stay mobile.
Audix A127
Microphones
With their latest reference microphone release, Audix set out to build an omni-directional condenser suited to almost any worldly recording environment.
The A127 is equipped with a 3-micron metal diaphragm delivering wide dynamic range, an impressive frequency response and intelligent corrosion-resistant housing to allow the condenser to perform even in less-than-ideal environmental conditions.
Audix A150
Studio Headphones
Part of a family of four models each with specific strengths, the A150 is a dynamic closed back headphone designed for studio referencing, mixing and also makes a great job of general music listening.
Each of the A150's ear cups offers full 90 degree swivelling for easy single-ear switching, while Audix's ear cup design offers excellent comfort and isolation even over longer mixing periods.
Avantone Gauss 7
Studio Monitors
Resurrecting yet another awesome relic from studio equipment history, Avantone's latest monitors are a nod to vintage GAUSS monitors of the 1970s.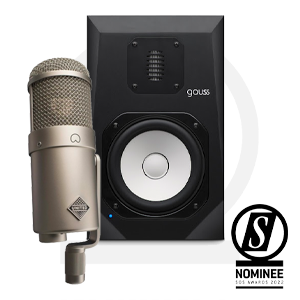 While the Gauss 7s remain faithful to their vintage counterparts in terms of old school transient snap, they also embody the rich bass response of present day genres providing producers and engineers an enjoyable one stop shop for modern studio mixing.
United Studio Technologies FET47
Microphones
From Texan microphone manufacturer United Studio Technologies comes an incredibly versatile studio workhorse inspired by vintage U47s.
Powered in-part by new-old-stock components meticulously sourced from across the globe, the FET47's beating heart is a unique HZ-series capsule manufactured in partnership with Eric Heiserman to offer unprecedented openness and clarity during recording.
Avantone Planar
Headphones
Avantone's first splash into planar magnetics and an effort of startling confidence. The Planar is a reference grade monitoring headphone featuring electrostatic technology and designed to offer enveloping and enlightening listening experiences to both mixing engineers and audiophiles alike.
Voting open now!
Click below to cast your votes for the best studio and recording equipment for 2022:
Voting is now closed
Closing date for submissions in 30th November so be sure to show your favourite products some love before it starts to look a little too much like snow!
For further information on the nominees mentioned above or any SCV distributed brand contact our pro audio sales team.