Last month at the prestigious Rocky Mountain Audio Fest consumer audio show in Denver, Colorado, Benchmark Media Systems presented several new additions to their family of Hi-Fi converters and amplifiers. In this article we take a closer look at the the new kids on the block as well as a deeper dive into their respective features.
 
LA4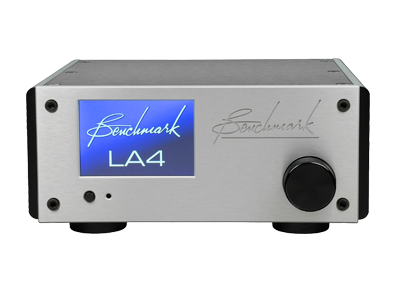 Many will already be familiar with Benchmark's groundbreaking HPA4 headphone amplifier released earlier in the year and designed in partnership with notable AV wizards THX Ltd. The LA4 is essentially a stripped down rendition of Benchmark's HPA4 without headphone outputs.
Within the LA4's design, Benchmark have sourced the finest gold-contact relays available to run 256 individual 0.5dB steps and a separate balance control. Like the HPA4, the relay closures have been precisely timed to give the smoothest volume change curve possible for the ultimate in precision performance.
The LA4's output controls are armed with fully balanced attenuators, with 256-way steps to optimise interfacing between analogue sources and output amplifiers. The result is a vastly improved signal-to-noise ratio and the freedom for each component to operate at its optimum signal level.
Boasting ultra-low distortion and low noise specs, the LA4 is built to deliver optimum performance across a range of listening levels, including (even) full output.
DAC3B
For almost two years Benchmark's DAC3 Series has been turning audiophile heads on both sides of the Atlantic with its 'pleasing resolution and muscular, expressive presentation' - What HiFi (more terms like this in the What HiFi DAC3HGC 5-star review).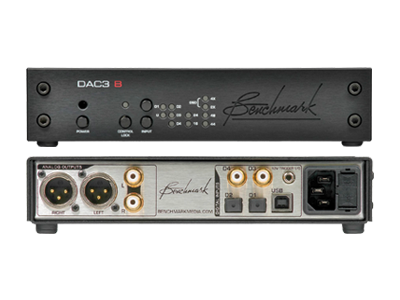 DAC3B is the most slimmed down model of the DAC3 range so far, eliminating volume control, analogue inputs, mute/polarity controls, and the headphone amplifier circuit. The 3B is a great tool for professional or studio use as well as consumers, and for users who do require analogue or headphone connectivity, the unit is designed to pair seamlessly with Benchmark's LA4 and HPA4 models respectively.
Several features are carried over from the HGC variant, including its audio path, conversion circuit, IR (remote control sold separately), a 12v trigger and Benchmark's auto-on feature which can be programmed in as desired. The DAC3B also adds a control lock for to prevent remote control access or unwanted changes.
With the release of these new products it is now possible, when paired with Benchmark's AHB2 power amplifier, to configure a next level high resolution Benchmark system. Listeners seeking the ultimate in uncoloured, truthful and transparent musical reproduction should consider Benchmark a high ranking option for their audition list.
For full details on Benchmark's new releases including pricing and availability, check out our DAC3B / LA4 product pages or contact SCV!