In just over a week The Festival of Sound (formely known as The Indulgence Show) will be making a triumphant return to Hammersmith's Novotel West for a weekend chock-full of portable audio, luxury Hi-Fi and even live music.
This year SCV will be attending in full force representing our premier high-end hi-fi and consumer audio brands. A quick rundown of products we'll be sharing at this year's event can be found below.
Novafidelity
Novafidelity's versatile range of network streaming products has been building impressive acclaim in 2018. For The Festival of Sound, their X45 streamer and DAC (pictured right and recently awarded Hi-Fi Choice's 'Highly Recommended' status) will be on show along with their X50D model.
Questyle Audio
Familiar faces for many former Indulgence Show attendees, a selection of Questyle's pristine digital audio converters including the CMA600i and CMA400i will be available to demo along with their QP2R portable digital audio player.
Benchmark 
Benchmark's first foray into the headphone amplification arena 'HPA4' will be making its second UK show appearance this for The Festival of Sound alongside their acclaimed DAC3 HGC high-end digital audio converter - awarded What Hi-Fi's 5-star rating in 2017.
Meze Audio
We know what you're going to ask - and the answer is yes! Empyrean, Meze's eagerly-awaited iso-dynamic hybrid array flagship headphone, will be available on demo alongside their full and well-respected range of 99 Series over ear closed-back headphones.
Focal
Now comprised of three unique models, Focal's range of high-end reference headphones including Elear, Clear and their flagship Utopia model will all be on show ready for demo. Novafidelity streamers and Questyle players will be supplied as high quality sources, or alternatively attendees are more than welcome to bring their own source.
IsoAcoustics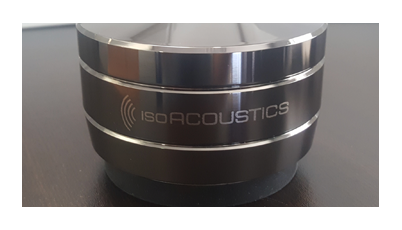 This year IsoAcoustics will be providing GAIA I isolators for Focal's floor-standing 'Kanta' range, on display at the Naim/Focal room (B6, Bourg).
A brand new addition to the IsoAcoustics family will also be making a first appearance for The Festival of Sound 2018 - check Focal's flagship Grande Utopia speakers for a sneak peak of the IsoAcoustics Titan Kronos, a floor-standing speaker isolator similar to GAIA but with the ability to support up-to 280kg! Find us at the show for more info and a first hand look.
Show Information
Hammersmith Novotel London West
1 Shortlands
London
W6 8DR, UK
Friday 28th September 10:00am 6:00pm
Saturday 29th September 10:00am 6:00pm
Sunday 30th September 10:00am 5:00pm
Find our headphone and high-end luxury HiFi brands in the 'Cremant' space.
Tickets available via the Festival of Sound ticket portal.