CanJam, the world's premier headphone audio show brought to you by Head-Fi, is returning to London for another unforgettable year! This year the revered personal audio festival will fall on the third weekend of July and take place once again at the Park Plaza Venue, Westminster Bridge.
SCV have been busy curating together a swathe of new and exciting products ready to unveil. Below is a sneak preview of what to expect at this year's show!
Meze Empyrean
"Resolving, smooth, extended at both ends … very impressive"
- Jude Mansella (April 2018)
Meze's highly secretive project of the last two years and the very first isodynamic hybrid array headphone. So far sightings of Meze's new flagship over-ear design have been fleeting, but at this year's CanJam show SCV will be thrilled to offer attendees a chance to experience the sound and feel of Empyrean first hand.
Meze RAI Penta
Another addition to the Meze frontline, RAI Penta is Meze's newest flagship universal fit in-ear headphone. 'Penta' refers to the 5 drivers working harmoniously in each earbud (10 in total) while 'RAI' translates from Romanian to - well - 'heaven.' The IEMs are built to a reference class standard to deliver the most neutral recreation of musical material possible and should be an essential demo for any in-ear enthusiast.
Find the Meze Audio team in the Plaza's Suite 9 at this year's show.
 
Benchmark HPA4
Making it's UK show debut and occasionally billed as the world's 'most linear amplifier,' HPA4 is Benchmark's first foray into the dedicated headphone amplifier market. The amp has been designed in partnership with audio-visual pioneers THX Ltd and features their Achromatic Audio Amplifier technology to achieve output levels with minimal or no distortion.
Benchmark models including the HPA4 and DAC3 will be displayed on the Hifonix booth.
 
Fostex TH900MK2/SB & T60RP
This year we're honoured with two Fostex products making their show debut. Firstly the SB (or Sapphire Blue) TH900MK2, built with custom-made 'Urushi' lacquered cups and Fostex's proprietary Biodyna diaphragms, the TH900MK2/SB delivers a smooth and straight low-end thanks to its special 'anniversary' audio tuning.
Secondly a new addition to the 'Regular Phase' family, Fostex's T60RP features a semi-open design with mahogany housings and tapered ear-pads for an immersive and highly enjoyable listening experience.
Find Fostex at this year's TekZone booth.
And Lots More...
Along with the newcomers mentioned above, SCV will also be exhibiting its full hi-fi and consumer audio product portfolio including the Focal high-end headphone range (Elear/Clear/Utopia), Questyle Audio DSD digital audio players and current mode amplification DACS, plus our new range of multimedia streamers from Novafidelity.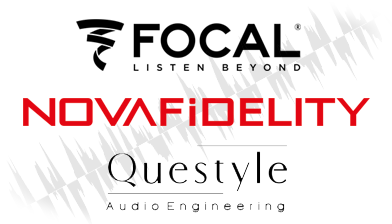 We'd like to also give a special shout-out to Atlas Cables who supplied all data cabling and audio interconnects for our booth configurations this year - we couldn't have done it (in such ergonomic style) without you, guys!
---
Event Info
Park Plaza Westminster Bridge
200 Westminster Bridge Road
London SE1 7UT
Saturday, July 21 11am-6pm
Sunday, July 22 10am-5pm
Tickets are still available! Get access via the CanJam Global site.