From Chicago-based audiophile manufacturer EarMen comes a brand new digital to analogue converter designed to up the sonic performance game of compact audio systems.
The Full Balancing Act
The EarMen Tradutto (roughly translated from "translator" in English) is an ultra high resolution DAC featuring fully balanced architecture. From the chip to the outputs on the rear of the unit, audio is amplified but otherwise untouched to deliver exquisite clarity.
Tradutto's circuit is built on a gold plated PCB with improved power filtering. By reducing the draw of current, the circuit dodges common interference from WiFi, mobile phone and even Bluetooth signals which may be present from neighbouring devices.
Sophisticated Conversion
At the heart of the Tradutto design is the ES9038Q2M chip from renowned component manufacturer ESS Sabre. Audio files up to 32bit/768kHZ or DSD512 can be delivered rapidly with outstanding performance.
EarMen have also selected a 16-core XU216 chip from XMOS for hardware decoding duties boasting double the clock speed over many alternatives as well as four times the memory. Armed with this kind of processing power, it comes as no surprise that FSR, MQA and MQA Studio formats are all supported in flying colours.
Choosing Your Vehicle
Modern listeners are blessed with a wealth of different source devices, from CD players to phones, consoles to laptops, game consoles and beyond. Bearing this in mind, EarMen have included a comprehensive selection of input choices on the rear panel of the Tradutto to accommodate as many device types as possible including digital optical, digital coaxial and USB data.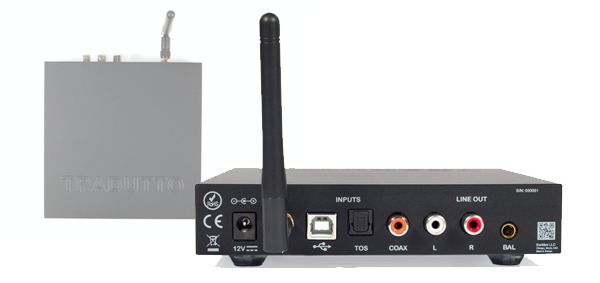 Additionally Tradutto ships with Qualcomm HD Bluetooth 5.1 receiving capabilities right out of the box. This offers robust, high quality wireless listening experiences and optimises power consumption for longer audio playback performance.
Finally output options come with a choice of either left/right unbalanced RCA phonos, or a 4.4mm for balanced.
Shipping September 2021
Tradutto is now available for pre-order at authorised EarMen dealers across the UK with the first shipment scheduled to arrive in late September / early October. For further information including specs and pricing contact our consumer audio sales team.