Sporting a sleek and streamlined design, EarMen's latest multifunctional DAC and headphone amplifier aims to set a new standard in portable listening - all with the power of a single on-board battery.
Less Is More
Armed with the ability to provide clear, full-spectrum audio even on the go, EarMen's newly announced 'Colibri' is a headphone amplifier, preamplifier and digital to analogue audio converter all in one.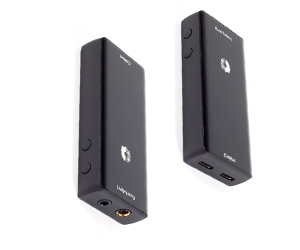 Colibri delivers natural and detailed listening from almost any chosen digital audio source device, complementing mid-high range frequencies with impressive low ends and providing neatly divided stereo separation.
ESS Inside
At the centre of Colibri's design is the crown jewel of ESS's SABRE PRO range. The ES9281 PRO DAC offers incredibly cutting edge performance sporting the highest dynamic range, pristine resolution and minimal harmonic distortion plus noise.
Powered by an internal battery which provides up to 5 hours of continuous playback, Colibri allows true immersive musical enjoyment in any location a listener may choose. 
The battery's ultra-clean and stable DC current not only avoids noise incurring side effects such as RFI or EMI pollution, but also ensures that no power is drawn from the source device allowing users to listen without fear of draining their phone battery.
Multi-Format Support
Keeping up with the very latest in digital audio trends, Colibri is compatible with a multitude of different high-res formats for maximum detail in listening.
High resolution PCM files are supported up to 32 bit at 385kHz, while DSD is covered in both DSD64 and DSD128 formats. Last but not least, Colibri also includes support for the popular and award winning MQA format for immensely detailed Master-Quality Authenticated clarity.
Modern Looks
Along with its modern styling from milled aluminium and glass-surfaced sides, Colibri has also been intuitively designed to provide ease of access to all necessary controls on the go.
Buttons conveniently situated on the side of each Colibri allow complete control of the music remotely without the need to constantly refer back to the source device.
Available Winter 2021
Colibri is shipping from EarMen's European manufacturing facility from December 2021. For pricing and availability or for your nearest EarMen dealer contact SCV consumer audio sales.