Today SCV are thrilled to announce distribution of Empire Ears in ear monitors for the UK and Ireland.
For those unfamiliar with the brand, Empire Ears are a globally renowned manufacturer of high-end universal and custom in-ear monitors for audiophiles, musicians and audio engineers.
The Empire Ears Mission
Based in Atlanta, Georgia and family owned, Empire Ears boast over 3 decades of acoustic engineering experience from sectors as diverse as HiFi, professional recording and even medical.
As a company of driven – in their own words 'utterly consumed' – creative designers, the Empire Ears mission is to create the world's finest in-ear monitors  through immersive sound signatures, extraordinary design and unrivalled build quality.
Each IEM product is designed in-house and handcrafted in the USA by Empire Ears' audio artisans before going through a rigorous testing process, resulting in a flawless product that both designers and consumers alike can get excited about.
Unique & Groundbreaking Design
True to the audiophile high standards that Empire Ears embodies, the components that makes up each IEM are firmly on the cutting edge of listening technology.
Among a number of proprietary component designs utilised across the Empire Ears product range are Weapon IX, a 9mm dynamic driver subwoofer system capable of bringing tonal impact as well as full and rich quality to general listening; ARC, a unique anti-resonance compound that absorbs in-shell IEM resonance to reduce ear fatigue; and synX, a crossover network which delineates signals intelligently into multiple bands to isolate frequency ranges and deliver a pure, uncoloured soundstage emulating the effect of sitting at the mixing board at the music's conception.

To ensure a true luxury audio experience, build quality also ranks as a high priority for Empire Ears' development process. Be it silver-plated copper cabling, jewel tone custom design shells or exotic burl wood face plates, every single piece of the IEM puzzle – both inside and out – is meticulously crafted to effortlessly align with the human ear and deliver the highest level of musical enjoyment possible.
---
Presenting The IEM Empire
The Empire Ears range currently consists of four unique models available in universal in-ear fit, or in a custom fitting available by special request...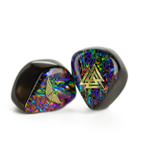 Odin
Empire's flagship tribrid model, powered by an impressive eleven inpidual drivers including two Weapon IX subwoofers.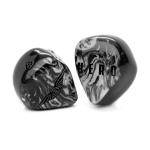 Hero
A quad configuration driver assembly supported by synX and ARC, finished with dazzling titanium blizzard faceplates.  
---
Available Now
For further information on Empire Ears including product specifications, pricing, availability or becoming a UK dealer, reach out to your regional SCV sales rep or get in contact via our sales support form.