EarMen Stack Headphone Streaming System
EarMen present an all-in-one high performance streaming system capable of driving even the most demanding of headphones.
£1999.00
inc VAT
ETA 1-2 WEEKS
All-in-one headphone streaming solution
Support for major streaming services
Fully balanced architecture
Remote controllable via EarMen Stream
Software compatible with iOS / Android
Finely crafted aluminium chassis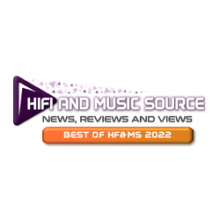 "The package is singularly greater than the sum of its parts. Probably the best I have heard these headphones"
HiFi & Music Source
EarMen's 'Stack' is made up three primary components. Streaming duties are managed by the Staccato which provides major services including Spotify and TIDAL as well as external audio routing from sources such as Bluetooth and USB.
The Tradutto DAC then provides premium conversion via fully balanced architecture delivering playback resolution of up to 32-bit / 68 kHz DSD512 with additional support for MQA and MQA Studio.
The final component in the stack "CH-Amp" then amplifies the source with up to 3.8W of low noise, low distortion power, enough juice to accommodate headphones of almost any impedance.
All three products can be powered by the single power supply included with CH-Amp. When connected in concert, the EarMen Stack delivers a headphone streaming performance even greater than the sum of its parts – a quality also noted by EISA when presenting the Stack with their 2022-2023 Best Headphone System award.
Image