Welcome back to Part 2 of our continued coverage of SCV's key manufacturing partners at the Winter NAMM Show 2020. To catch up and digest the existing excitement from part 1, click here where you'll find NAMM product news from Audix, Focal, IsoAcoustics and Sonarworks!
Millennia Media
John La Grou and the Millennia Media team were delighted to show off a new addition to their HV range of high-end microphone preamps.
The HV316 is tipped as Millennia's most technically advanced preamp in their 28 year history and packs no less than sixteen HV amp circuits into a single 1U chassis. Output options are bang up to date with simultaneous analogue and Dante/Ethernet with even more planned for the near future (including MADI and USB).

Designed for life on the road, the HV316 can withstand high temperatures and its rugged chassis makes it a perfect rack piece for live tours, stages and concert environments.
HV316 is shipping this year - stay tuned for more info!
Black Lion Audio
At the Black Lion Audio booth we got to check out first hand some of the latest outboard innovations from Chicago's finest pro audio mod-shop. From the newly announced Eighteen channel strip, to the multi purpose dual character B172A preamp and the hotly anticipated blue-strip 1176 clone "Bluey."
Bluey is destined to arrive in the UK this very quarter and SCV-friend Paul White of SoundOnSound caught up Jesus Ortiz (one of Bluey's BLA architects) to explain why we should be even more excited about it…
For authorised Bluey dealers check out our product page.
Kaotica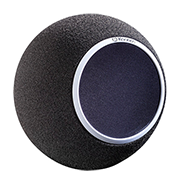 Eyeball inventor Konrad Zukowski introduced us to a new Kaotica portable vocal booth product designed to cater for larger diaphragm microphones. The "Fatboy" shares the same design traits as its smaller Eyeball sibling but with a striking black pop shield.
For Eyeball users keen to customise and style their acoustic treatment, Kaotica have also introduced a range of add-on pop shield accessories in red, purple and green (along with the standard issue Blue).
More info coming soon...
Hear Technologies
The Hear Technologies booth was awash with excitement about the first addition to their new 'Switch Back' line of interface products. The M8RX, announced in 2019, is a rugged multichannel preamp and headphone monitoring box which can be tripod mounted for easy access. The headphone amplification circuit even inherits some prestigious trickle-down tech from HT's Hear Back PRO range.

Find out more about the SwitchBack M8RX here.
Metric Halo
Longtime observers and first time exhibitors Metric Halo Audio from Safety Harbour, FL made their NAMM Show debut with a splash – exhibiting their full range of 3D enabled USB-C interfaces and a star-studded list of guest presenters including Michael Romanowski of Coast Mastering and Rick Carson of Make Believe Studios.
Founder BJ Buchalter was on hand to demonstrate the immense power of Metric Halo's 3D hardware including built-in DSP+ and proprietary MH Link technology for daisy chaining near-unlimited numbers of interfaces.

For more information on Metric Halo interfaces check out the full product range.
Just one more thing...
SCV are also excited to announce a new addition to our product portfolio – we're currently sworn to secrecy but can reveal it's definitely shiny... Keep an eye on our blog and social media channels for more info very soon.
Thanks to all the NAMM-watchers for reading, and we look forward to seeing you all again in 2021!