For many years Hear Technologies' Hear Back PRO personal monitoring system has been a cornerstone of integrated live recording setups and live on-stage mixing configurations.
Since the introduction of the Hear Back PRO range, Hear Technologies have released a series of incremental updates to continually improve the platform based on application versatility and market feedback to add value for Hear Back PRO's loyal users.
What's New In PRO V5?
In version 5, Hear Back PRO now adds support for up to 64 pairs of stereo-linked channels, upto 32 input channels (per PRO Hub), and the ability to submix up to 16 channels on each of the 16 knobs located on each PRO Mixer.
Even more impressively, multiple channels can also be route-assigned to the system's sub-mix in quantities of up to 128 across additional input cards and hubs.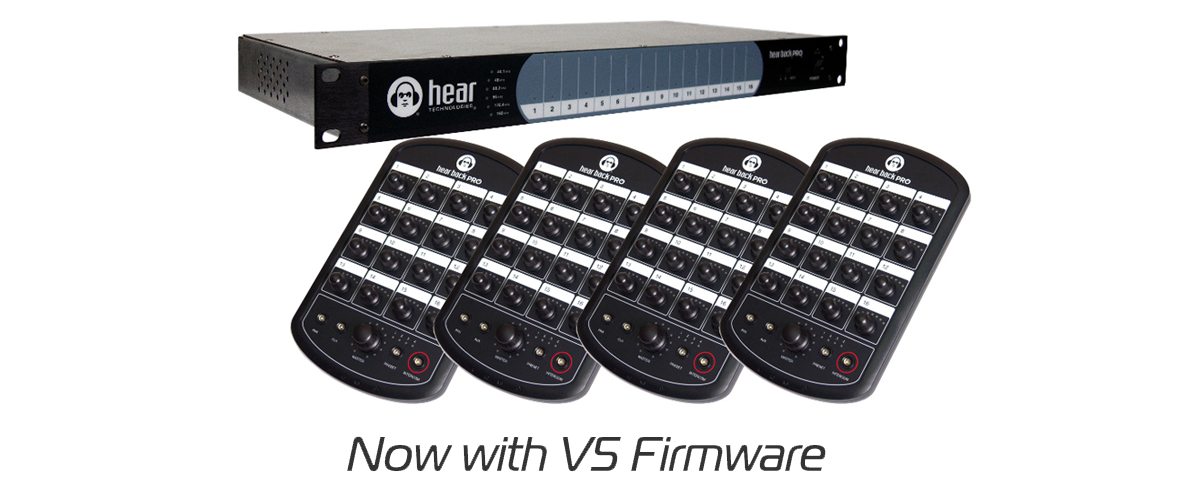 Checking Your Current Firmware Version
When designing the PRO Mixer, Hear Technologies included an intuitive way to confirm the installed firmware version on any mixer without the necessity to connect to a separate computer or include a readout screen.
Firstly power your unit down, ensuring that no RJ45 cable is connected to the mixer. Next press and hold the 'Preset' button while plugging your ethernet cable back in. At this point the mixer will display a pattern of partial LEDs across the readout surface.
The number of lights surrounding the master knob indicates the major version currently installed, while the illuminated channel number when added to 16 indicates the minor version (e.g. channel 3 = minor version 19).
Upgrading To Firmware V5
To install firmware version 5, first download the installer for the PRO Hub which can be found here.
When installation is complete, boot the Hear Back PRO iOS app and follow onscreen instructions to connect your system to the wireless network. After connecting all present or available mixers, navigate to the firmware/settings tab with in the iOS application, tap 'Update Available' and follow the on-screen instructions.
And that's basically it! The system is now super charged with v5 firmware power. For any technical support queries or for more information on Hear Technologies distribution in the UK, contact SCV sales and support.