As some Hear Back fans may already be aware, Hear Technologies now provide an app for iPad, iPhone and iPad Pro with the power to remotely control their acclaimed Hear Back PRO series of personal mixing systems! Thanks to iOS's 'Split View,' multiple instances of apps can now also be run side-by-side!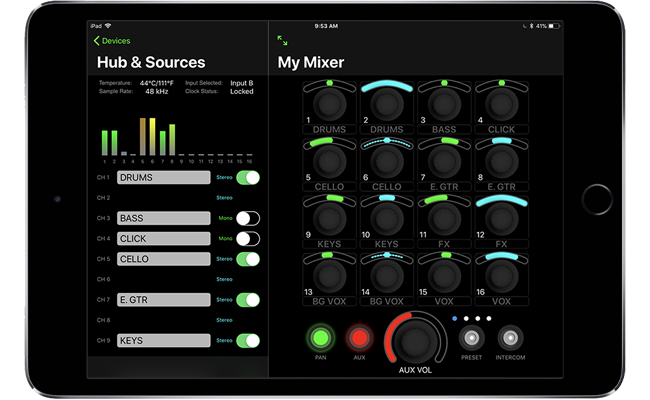 What abilities do I get?
Full control and live monitoring capabilities for all 16 input signal levels.
Sampling rate monitoring as well as clock statuses, input switch selections, and even monitor internal Hub temperatures.
Lock out individual mix controls such as pan, aux, preset and intercom for any (or all) channels including 'master.'
Disable grouping, solo-in-place, and copy/paste features.
Avoid losing any of your four banked presets by toggling write-protection.
How does it work?
Install the app on your iOS device (link at the end of this article).
Connect your wireless router's LAN port to 'HBUS IN,' a port found on the back of your PRO Hub.
Launch the app on your iOS device.
Watch your mixers populate in the list!
Once you're up and running it's also possibly to give custom names to mixers and channels (these won't get lost between sessions), and there with the Global Control option every mixer can be controlled simultaneously.
View a live demonstration of the HearBack Pro iOS app's capabilities below:

(iOS makes an appearance around 12m46)
Am I compatible?
Requires iOS 11.0 or later.
Compatible with iPhone 5s, 6, 6 Plus, 6s, 6s Plus, SE, 7, 7 Plus, 8, 8 Plus, X
iPad Air, mini 2, Air 2, mini 3, mini 4, iPad Pro 1 & 2
How much does it cost?
Well golly, this one is a freebie! Click below to head to the App Store and grab your download: