An eagerly awaited addition to their Professional Fidelity range, SPL this week proudly announce the release of their Performer s1200 stereo channel power amplifier boasting a mighty 520 watts per side.
Due to the great success and outstanding musical performance of the Performer m1000 mono power amplifier, I had the desire to translate this sound experience into a big stereo power amplifier. The main challenge was to implement the complex technical concept of the power amplifier into the form factor and the design of the Professional Fidelity series, while achieving maximum performance – but above all, it should play in the same league as our m1000 in terms of sound. After many listening sessions, we can now proudly say: We have achieved this goal with the Performer s1200 stereo power amplifier.
Bastian Neu, SPL Developer
Building on the design heritage of many of its Performer range siblings, the s1200 bears many traits in common with the m1000 mono block despite being a dual channel amplifier. With headroom of 300 watts per side at 8 ohms, all the way up to 520 watts at 4 ohms and 550 watts at 2 ohms, the s1200 is designed to adeptly power almost any modern loudspeaker with expert control.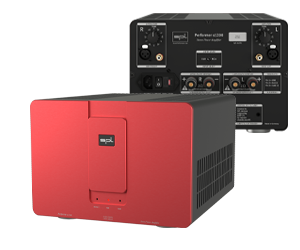 The s1200 has been designed to accommodate both balanced and unbalanced inputs via XLR and RCA connectors respectively, while outputs feature bear wire or banana plug options. On test, the amplifier is described as detail in rich, presenting a vivid dynamic canvas perfect for true-to-material musical delivery.
Intelligent Environment Controls
SPL have taken every measure to ensure that the s1200 performs at its best and in perfect safety even at higher voltages. On-board temperature sensors at the heatsink stage continuously check in on temperature while a built in protection circuit guards the amp against DC voltage overloads.
The amplifier is fitted with six internal processor-controlled fan units which exhibit a virtually silent 19dB of operational noise, however thanks to the incredible passive heat dissipation of the s1200's heat sinks, the fans are very rarely even engaged.
Optimise For Different Setups
To cater for the multitude of audiophile setups available, SPL have built in the ability to finely adjust the s1200's operation to seamlessly fit with any modern listening system.
Input sensitivity can be tuned surgically in 0.5 dB increments from 0 all the way down to -5.5dB. This trimming tool ensures that the s1200 may operate in the ideal range to match any loudspeaker and preamp and deliver remarkable performances on every listen.

Additionally the s1200's power can be externally switched via a 3.5mm 12v trigger. Many modern preamps now have this feature available for multi-device power control, including SPL's Director Mk II.
Powered by VOLTAiR
While many conventional solid-state amplifiers operate within the critical range of their built-in components, this design trait can often render extraneous harmonic artefacts along the way, compromising the signal and routing unwanted information to the loudspeakers.
SPL's solution comes in the form of VOLTAiR, a 120 volt rail technology offering unprecedented headroom and the ability for all components in the s1200's circuit to operate at their optimal range. The result is a truly natural amplified listening experience which enables listening enjoyment of every detail and without fatigue.
Coming Winter 2021
SCV are now accepting s1200 preorders for end of year 2021, for information on pricing and availability contact the SCV consumer audio sales team.