SCV Distribution is thrilled today to reveal a newly confirmed partnership with pro audio outboard manufacturer Lindell Audio!
"We at Lindell Audio are thrilled to join forces with one of the UK's premier pro audio equipment suppliers: SCV Distribution. SCV manages lots of the pro brands I have used throughout my professional career as a record producer – I specifically remember the Focal SM8, which I used to record and mix Grammy Award winning bands back in the day.

"The work SCV has done with Focal over the past years has been inspiring, and we want to be a part of a team with such driving force. Our new and improved product range fits perfectly with the SCV palette – I've been friends with Ian Young a long time and it's now time to join forces and bring to market the best value 500-series lunchbox products money can buy!"

Tobias Lindell, CEO Lindell Audio
The new alliance comes at a pioneering time for Lindell, who at this year's NAMM Show are introducing a range of innovative new products to the pro audio market. SCV has been bestowed with the honour of bringing the new line-up to the UK & Germany, and users will be thrilled to learn that jaw dropping value-for-money remains one of Lindell's principal cornerstones in the design of each new piece.
Two new lines have been revealed this year. Firstly, Lindell's 500-series power racks have received a design overhaul in order to implement several new and desirable features. The 506 and 510 Mk II incarnations include feed switches for each channel, enabling users to mix one channel into another without the need for extra cabling. Plus, users now have the choice of XLR or 25-pin D-Sub connectors on the rear of the chassis in order to cater for all scales of studio workflow.
Secondly, Lindell have announced their Classic-Series line comprised of three studio preamp and processing models built for the 500-Series format: The RE51 (an OPA1731-powered Preamp/DI and EQ module), RE 76X (an 1176 style compressor featuring real hardware bypass) and a PEQ-501A program EQ (Lindell's take on the original Pultec EQP1).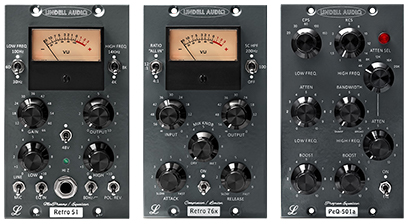 Each of these new products embodies Lindell's remarkable commitment to usability, quality of sound and a robust design.
"SCV Distribution are delighted to welcome the Lindell Audio product range into our portfolio of distributed brands. A production revamp on the existing Lindell 500 series units coupled with the new release of the limited edition Classic-Series modules make it an extremely exciting time to begin our partnership.

"SCV Distribution will exclusively represent the Lindell Audio line in both the United Kingdom and also in Germany. Be sure to check out the exciting new Lindell range for yourself at Booth #6905, Hall A, at Winter NAMM 2017."

Ian Young, Head of Sales (Pro Audio) SCV Distribution
For all technical specifications, pricing and stock availability enquiries for Lindell Audio please contact SCV Distribution on sales@scvdistribution.co.uk or telephone 03301 222 500.