Hear Technologies has, for over a decade, held its place as one of the world leaders in personal monitoring manufacture.
Their latest offering to the table is the Hear Back OCTO, a brand new 8-channel system that takes the Hear Back series up an evolutionary gear. New features include improved sound quality, improved ease of use, a more compact design for ease of transportation, ultra responsive touch-link buttons, a flat-top surface for easier labelling and optional ADAT Card slot for integration with Head Back PRO systems.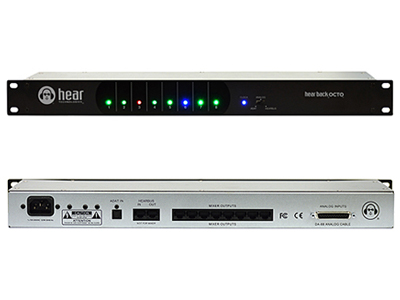 Hear Back OCTO Rackmount Hub
The unit includes eight individual mono channels which can also be paired up as 4 stereo ins. 1/8" and 1/4" headphone jacks are both featured and all connectors are located on one end for ease of access. Each new Hear Back OCTO System is 100% backwards compatible with its Hear Back series predecessors, so current users can breath easy when planning to expand or upgrade existing configurations.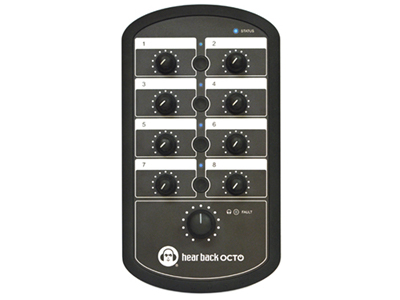 Hear Back Octo Mixer
OCTO is geared for easy setup and use in a variety of mixing scenarios in-ear live monitoring to studio headphone mixes, wireless applications and of course conventional floor monitoring. Multiple units can be daisy-chained and, with the benefit of digital connectivity, systems can be scaled to almost any size desired.​
Coming Spring 2018. For further specifications, assets or pre-order information contact SCV Distribution.