After almost a decade of quality personal mixing, the original Hear Back range has come to an end. But don't start packing up the studio session/rehearsal/gig just yet! Hear Technologies' new and improved Hear Back OCTO range has landed and is now available in the UK.
A Quick Reintroduction
Hear Back OCTO draws on many of the features that everyone loved about the original range with a few key improvements:
Improvements to interface user-friendliness and sound quality
Trickle-down technology inherited from the Hear Back PRO range
More compact size for ease of storage/transport
New fully-capacitive touch link buttons
Redesigned flat-top surfaces for easy labelling
Eight mono channels per hub including up to 4 stereo pairs
Both mini and quarter inch jacks for headphone output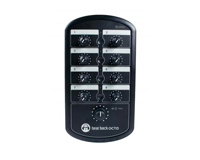 For those already raising hands aloft with compatibility concerns, Hear Technologies have ensured absolute 100% backward-compatibility with original Hear Back systems and, for Hear Back PRO users, an optional PRO Hub ADAT card capable of bridging the two product families.
OCTO Mixer
Offering local control of up to 8 channels and a master control for overall volume, the Hear Back OCTO Mixer is fully microphone stand mountable for easy setup and access from any musical station be it behind the mic, keys or drum kit. The auxiliary input also allows for accommodating tools such as metronomes.
Full Hear Back OCTO Mixer specifications here...
OCTO Hub
Hear Technologies' newly revamped OCTO Hub can power up to 8 individual mixers feeding from one of three selectable sources: ADAT, Analog and HearBus. With OCTO's daisy chaining functionality the system can also be scaled far beyond 8 mixers for almost limitless applications.
Full Hear Back OCTO Hub specifications here...
Bundling Up
As with the original Hear Back range, Hear Tech will offer a 4-mixer strong bundle packed with all of the necessary interconnects to get you up and running.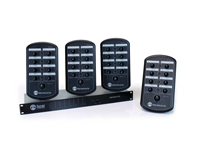 Each Hear Back OCTO Four Pack includes:
4x Mixers
1x Hub
4x Cat5e cables
1x DSub / TRS multicore cable
1x Gig bag
Full Hear Back OCTO Four Pack specifications here...
Interested in finding out more about the OCTO range or keen to find your nearest retail specialist? Contact us for further information!