For many years Bricasti Designs have maintained a line of innovative, powerful and achingly good-looking power amplifiers designed for the Hi-Fi market - the largest of which (the Bricasti M28) offers an almighty 800W to a single mono channel with a 2 ohm load.
Now in 2019, with a firm foothold already in the professional sector thanks to their revered M7 Reverb processor, Bricasti are turning their talents to pro-side amplifiers designed to power larger-scale mounted and free-standing passive studio monitors.
Meet The M15 Pro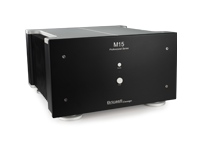 The newly announced M15 Pro is a true reference design professional series stereo amplifier offering balanced topology and an extremely low distortion spec (THD+N rated at less than 0.005%).
As a fully differential power amp, the M15 Pro performs with well controlled bass attributes, lightning fast transient attack and precise imaging. At 8, 4 and 2 ohms it is capable of throwing 120W, 400W and 500W respectively, and Bricasti's unique trim tool also allows users to properly gain stage the amplifier in-line with other equipment in the chain.
Bricasti appreciate that the power amp is a critical component to any passive speaker centred audio chain. As such the M15 Pro has been designed to be as revealing as possible with no feel of limiting or compression, regardless of the speaker set it has been paired with. A special design emphasis has been placed on dynamic performance along with transparency and minute distortion.
Available Now!

The M15 Pro is available now! Each unit is built to order and crafted by hand in Bricasti's brick mill facility in Massachusetts. For information on pricing and availability contact the SCV professional sales team.
---

---