Black Friday is upon us! And pro audio retailers across the UK are already unleashing the biggest studio gear deals of 2020 thus far.
This year SCV are proud to present three unmissable deals from two of our distributed brands – Sonarworks and IsoAcoustics. Let's see what's on offer...
Sonarworks
From the 27th – 30th of November, Sonarworks are offering an amazing 40% off all Reference 4 calibration software products!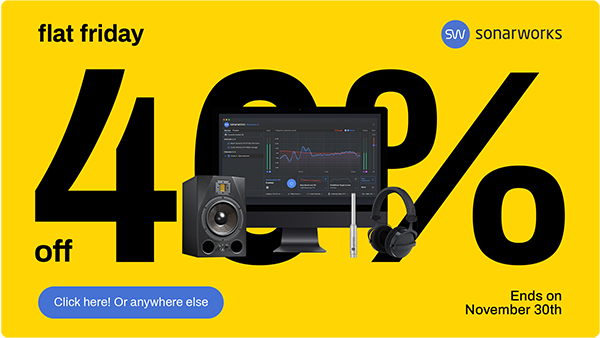 The Sonarworks range includes software solutions for both headphones and studio monitors. By employing Reference 4 plugin or standalone application, Sonarworks applies a unique blend of audio  calibration tailored to specific headphone and monitor models to compensate their shortcomings and ensure a clean 'studio reference' mixing standard across all playback mediums.
To get 40% off Sonarworks Reference 4 today, get in touch with one of our authorised UK dealers:
IsoAcoustics
Across Black Friday weekend, IsoAcoustics are offering up to 25% off their ISO-Puck mini and Stage1 Combo Board products from selected retailers.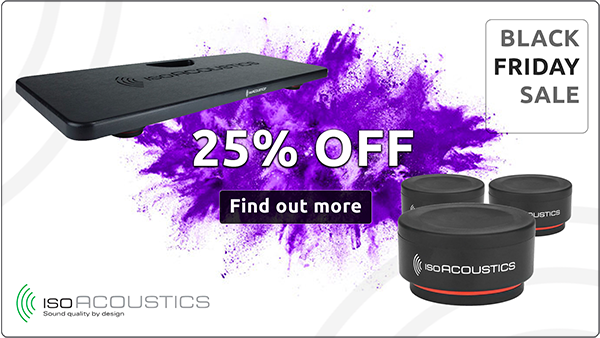 The ISO-Puck mini is a modular and incredibly scalable solution for isolating your studio monitors or speakers from their underlying surface. Each Puck mini can hold a net weight of up to 9kg, and their application greatly improves mixing and listening by removing incorrect resonances from speakers' cabinets.
Meanwhile the Stage1 Board Combo adapts the same innovative technology for guitarists, bassists and live sound engineers. By situating a Stage1 Board beneath any guitar combo, speaker cab or stage monitor, the frequencies reflected back into the cabinet from the floor are neutralised, resulting in a cleaner sound as well as more consistency between different studios and different stages.
To get 25% off today, contact SCV sales to find your closest participating retailer.
For more information on SCV brands including Sonarworks and IsoAcoustics, drop us a line by email or follow our Twitter, Instagram or Facebook social channels for lots more!