In recent weeks online audio software developers Reverb Foundry have released a hardware integration plugin for a unique and prestigious audience: users of the Bricasti M7 Stereo Reverb.
A Quick History Lesson on M7
For those of you unfamiliar with the Bricasti range, the M7 studio reverb has been a rack mounted cornerstone of many commercial and project studios, serving up lush digital effect processing for well over a decade.
Made by hand in Massachusetts, the M7 features every reverb type a mix or production engineer could hope for – from halls to plates, and from chambers to ambient spaces. 200 unique presets are stored as standard along with 100 user programmable slots.
The Strongest Link?
Reverb Foundry's M7 Link plug-in supports AU, VST and AAX platforms* across both Mac and PC, and offers an impressive expansion on the M7's hardware control options.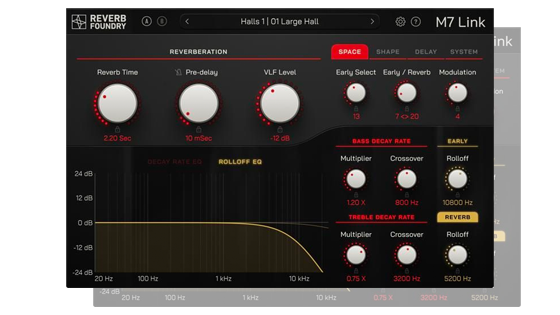 Controllable features include full program recall, pre-delay tempo sync and system management for multiple M7 and M7M units right from the DAW.
* Supported formats AU, VST 2.4, VST3 and AAX formats on Mac and PC.
Reverb Foundry hail the Bricasti M7 as the 'world's best hardware reverb' - a sentiment we can only agree on with equal enthusiasm. With the M7-Link plug-in, RF have neatly extended the usability of the M7 to integrate even more seamlessly into modern studio configurations and workflows to get you more reverb, with less work.
The M7 Link application and plug-in set can be downloaded directly from the Reverb Foundry site. For any queries relating to Bricasti hardware, contact SCV for further info!